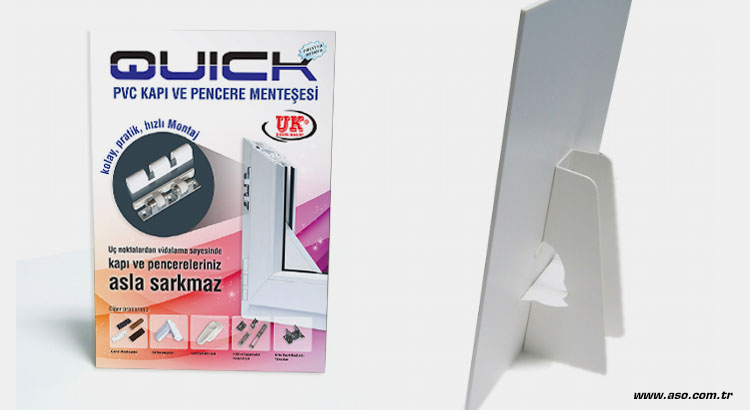 Cardboard standing posters are one of the practical promotional products in different sizes and can stand up thanks to their back leg. Standing posters can be produced with photoblock, plastic-based forex material also known as decota or cardboard. It is obtained by printing foil and plastering it on these materials. A stylish appearance is obtained by coating matte or glossy lamination on it. Cut-Out cardboard standing posters can also be used as temporary direction boards in event, organization, exhibition, fair areas.
Cardboard stand posters, also known as free-standing stands, are lightweight and not suitable for outdoor use. It can be used mostly indoors or in environments that will not be exposed to external factors such as wind and rain.
Cardboard standing poster printing is done digitally on indoor HP machines. Print resolution is 1200dpi.
Cardboard standing poster prices
The price of a poster with cardboard stand varies according to the use of cardboard, photoblock or forex material. While cardboard is the most affordable, the most durable is the poster produced with forex material. The photoblock is very light and easy to carry.
Visit our online store for cardboard stand poster prices produced with different materials.
3 mm forex or 5 mm photoblock material, you can see the prices of posters with cardboard feet here. https://fuar.aso.com.tr/urun/ayakli-poster-foreks/
Cardboard stand sizes
We can produce 32 cm wide to 90 cm wide cardboard stands. For large size posters, using thicker material will give better results. When purchasing, you can select the dimensions and see the prices on our related page.
Product delivery
After completing the cardboard standing poster printing, we can send the product to your address by cargo or you can come and pick it up from our workshop.