Google ads, formerly known as google adwords ads, is the basis of internet advertising in our country. Search result first page ads are an economical promotion method that allows you to reach your target customer base via the internet. We can make the most effective promotion with very small advertising budgets. We identify the sites with high impression potential that will reach your target audience the fastest and offer you appropriate advertising solutions. Customers searching for companies similar to yours on Google Search and Maps will find you. You only pay for clicks that lead to your website.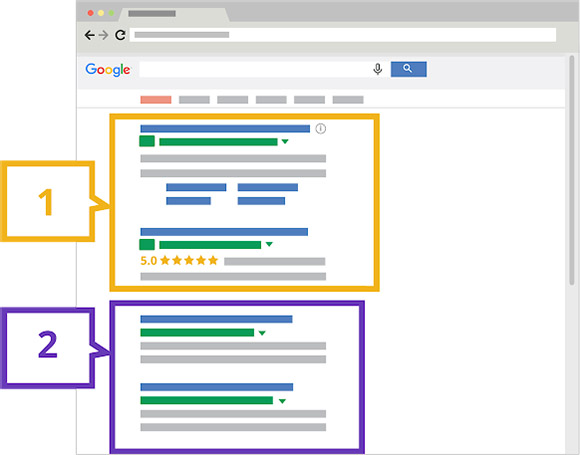 Google has become the most preferred advertising medium because it is the most used search engine in the world and offers advertising solutions targeting your customer potential. Companies have the opportunity to attract more customers with Ads advertising.
When internet users search for your product or service in google searches, your advertisement is displayed. You will not appear in other searches. Thus, you will only be visible to potential customers looking for the service you offer or the product you sell and you will reach your target audience. You define your target audience with region, country and language options.
You do not pay for Google ads ad impressions. You pay when you receive visitors to your page. So it doesn't cost anything to appear in Google search results. If a visitor sees your ad and clicks on it, you pay per click.
We have a highly experienced team in internet advertising. Call us for Google adwords advertising solutions, the most effective advertising solution in the internet world.Google search result ads bring you together with new customers. Google ads should be preferred because of the stiff competition in search results. It's also how new websites and sites that haven't yet found their way into natural search results get visible.
We offer a complete solution forGoogle Ads (formerly Adwords) Advertising solutions.
If you inform us about your field of activity, we will research the product you want to sell and determine the relevant words and costs.
We create an account for you, edit the text of the display or word ad, and get your ad approved by Google.
We constantly monitor your ads and optimize them to increase your word quality score.
We receive your weekly and monthly reports and send them to you.
We provide consultancy services on search engine optimization for your website.
We inform you about Google Adwords.
We set you up with a Google Analytics account and let you see your site reports.
We ensure that your company's name appears on Google maps.
You need to set an advertising budget in proportion to the number of visitors you want to attract.
How do you set your Google ad budget?
With Google Adwords online advertising, your ads are displayed in Google search results or on content partner sites. You choose that.
You can only display the search result. This is more effective. Your ads reach your target audience directly.
Example scenario;
You are a "pad printing machine" manufacturer. And you want to reach potential customers looking for this machine. Let the word "pad printing machine" cost 1 TL in Google Adwords.
In this case, when the user searches for "pad printing machine", your ads will be displayed under the sponsored ads heading. You also don't pay for imaging. The user sees your ad and clicks through to your site. In this case, 1 TL will be deducted from your account.
With a budget of 500 TL, you will attract 1000 visitors with this word only. All of these visitors are potential customers interested in the "pad printing machine".
Call us now. Let's start running your Google ads now. Tel: 0212.222 3801 and 0212 222 16 08
Google ads brings you to the target.