School supplies today are a good promotional tool. For school-age or pre-primary school students, products such as ballpoint pens, pencils, erasers, pencil shavers or school bags printed with brand or company logo are frequently preferred promotional products recently. With these products, you will not only meet the school needs of children, but also contribute to your promotion.
Young children are known to have a very high visual memory. School supplies such as pencils, erasers, pencil sharpeners, rulers, school bags with your brandprinted on them will be in the minds of children and even their families and will increase the awareness of your brand.
We offer you a good promotional product set with a specially designed box and a printing option designed individually for the products.
Minimum order quantity is 500 boxes as a set.
If you are thinking of having school supplies made as a promotional product, call us.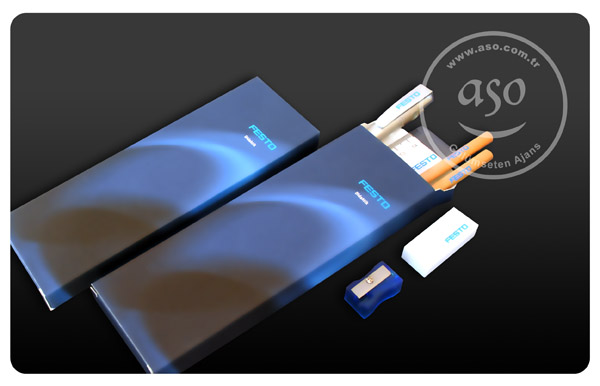 School set made for the German company Festo and used by the company for promotional distribution. The box has a simple and elegant design and contains a ballpoint pen, black pencil, red pencil, ruler, eraser and sharpener.