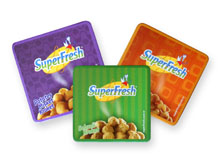 Coasters are one of the most affordable promotional products due to their long-term use and constant visibility. By making coasters in different shapes and sizes, you can offer your customers a promotional product that they can use continuously.
---
Types of Coasters
Wooden coaster
Cork Base Coaster
Nova, eva or rubber base coaster
Stone coaster
Wooden and cork-based coasters are also known as eco-friendly products because they are biodegradable. Cork coaster product is obtained by plastering offset printed cardboard on cork base. High quality offset printing uses environmentally friendly inks and is not harmful to health. It has a natural look. It is the most preferred type of coaster as a promotion.
You can offer your customers a stylish promotional product by creating a set of cork coasters with different designs for your company.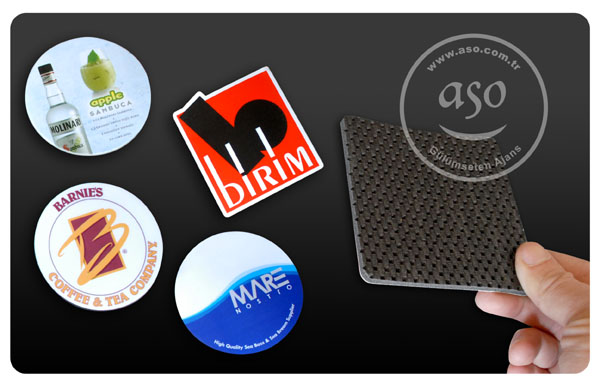 How to Make Cork Coasters?
It is produced from different materials and placed on the table or coffee table under the cups of hot drinks such as tea or coffee or cold drinks. Coasters are an effective promotional tool thanks to the printing on them, as they are constantly in sight in areas such as tables or coffee tables.
Cork or wooden coasters generally provide insulation of hot or cold drinks from floating surfaces such as tables and coffee tables, thus preserving the heat of the drink.
Wooden and cork coasters are preferred thanks to their non-slip base and high insulation properties. A special design made by our graphics department, or the logo or brand of your company sent by the advertising agency you work with, is printed on cardboard in high quality on 4 color offset machines. Then the printed cardboards are plastered with special eco-friendly adhesives on cork plates cut in appropriate thickness and dimensions. Thus, plates with an optional thickness of 3-7 mm are obtained.
Cork coaster plates are cut with special circular knives and made ready for use. Optionally, different designs are combined and packaged in 4 or 6 pieces and made ready for distribution to your customers.
Stone Coaster
It is produced by color digital printing on stones cut in 10×10 cm dimensions. The rough surface gives a stylish look to the bottom of the glass. The 1 cm thick stone coaster has a non-slip nova base on the bottom surface. Stone coasters can be preferred as a different and affordable promotional product for your business.
Stone coasters can be preferred as double or single in a kraft logo printed box or can be used as single.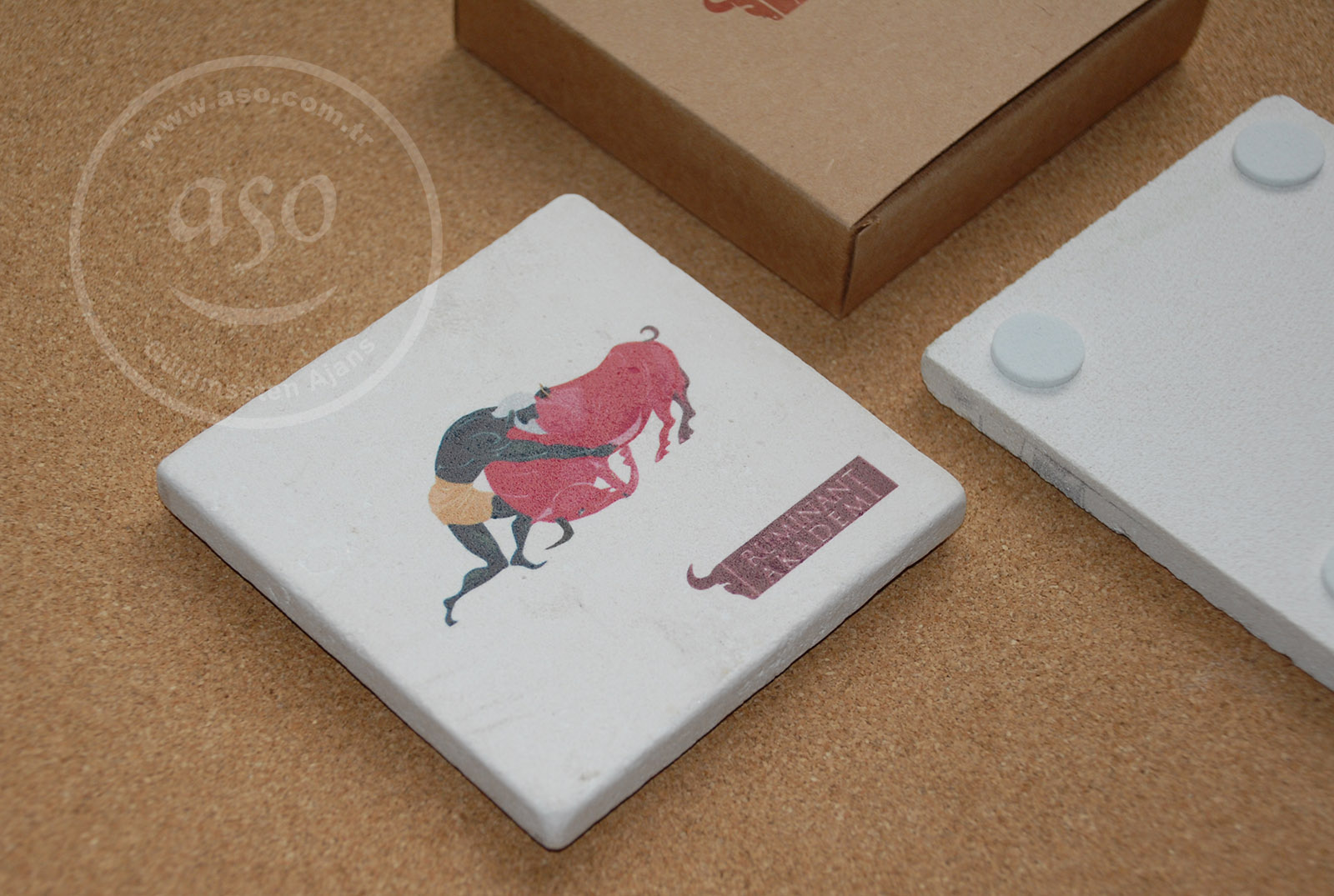 Printed stone coasters we produced for Ruminant Academy.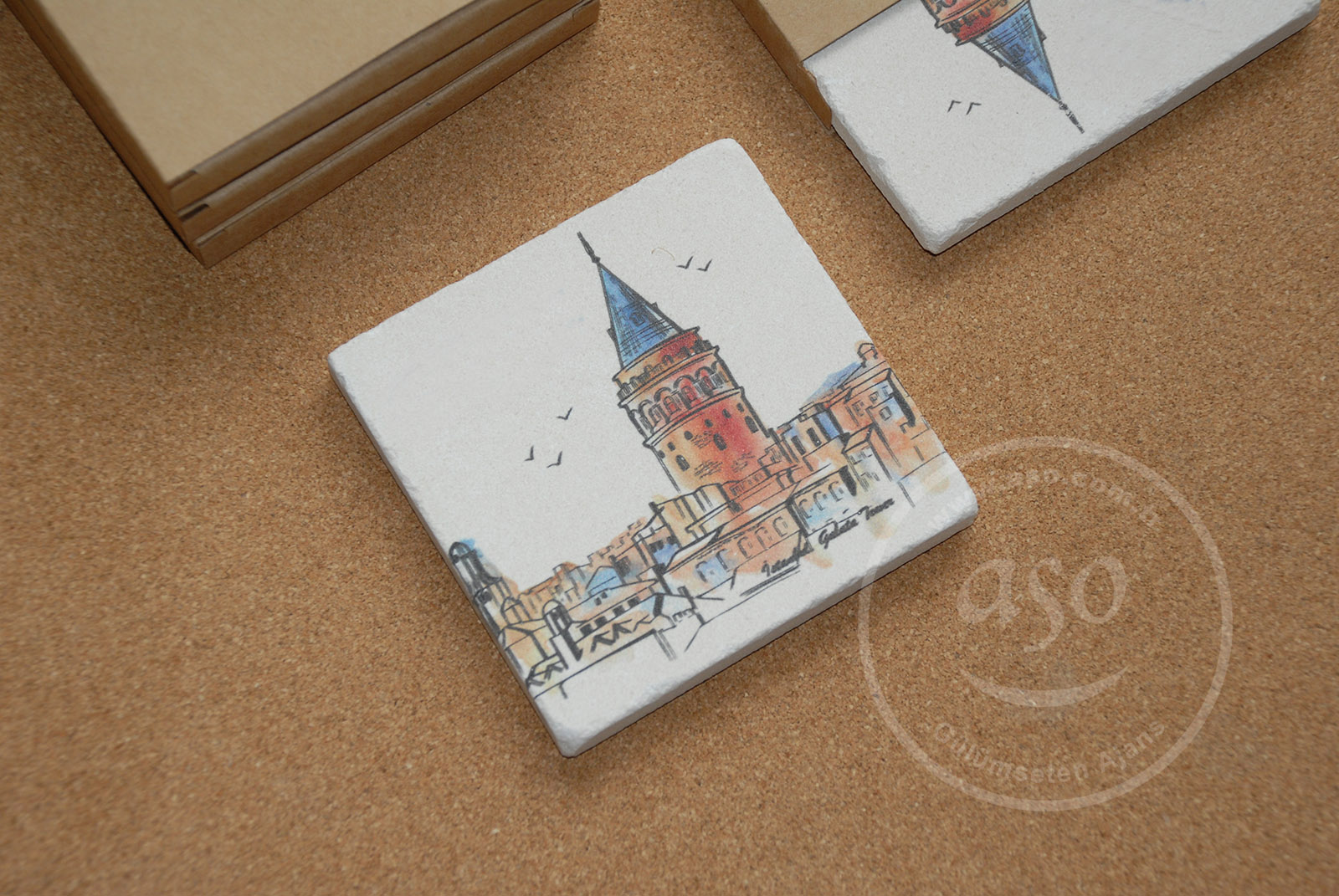 Promotional stone coasters designed and printed for ETS TOEIC.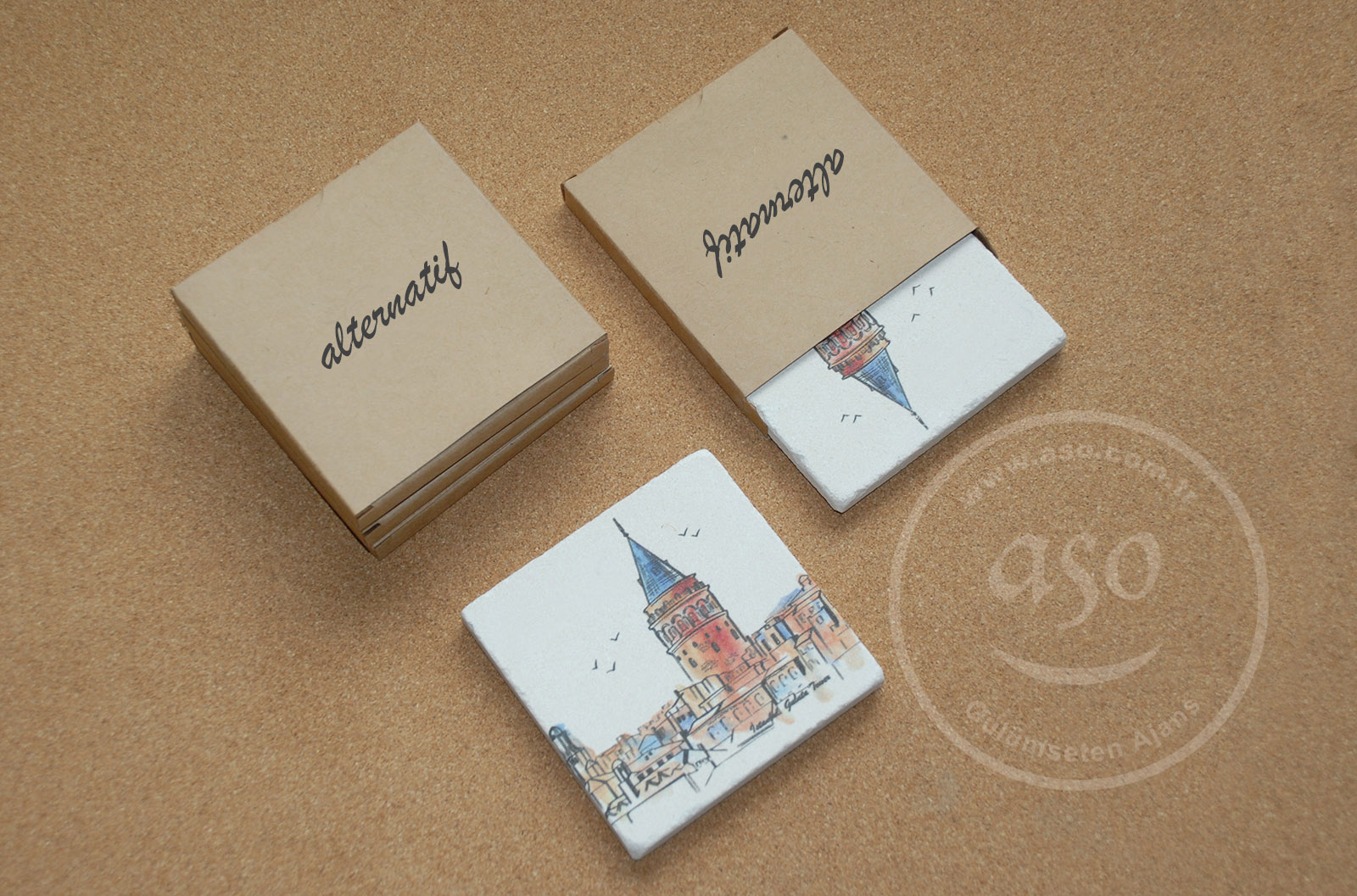 Stone coasters can be produced with optional cardboard box.
Wooden Coasters
Wooden coasters, which show the unique texture and color of wood in the best way, can be used for promotional purposes by printing logos or brands on them. It is printed by laser burning on the bottom of the wooden coaster. It has an elegant appearance. Please call us for the price of wooden coasters.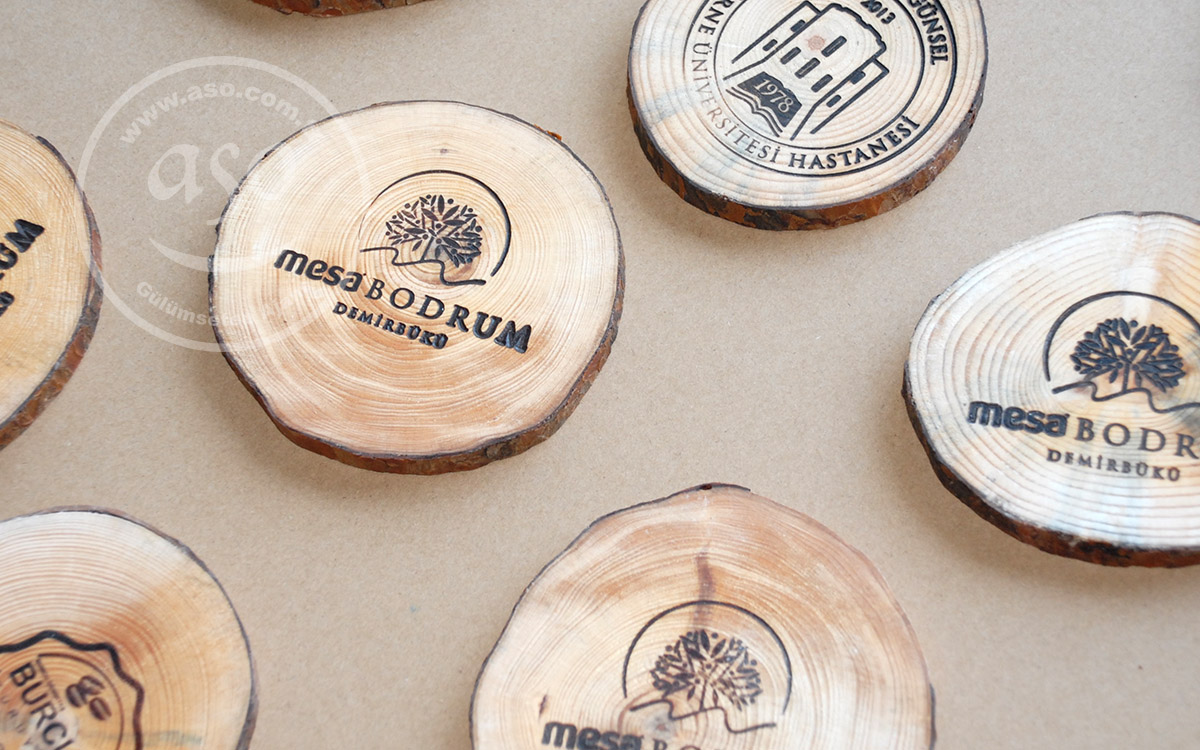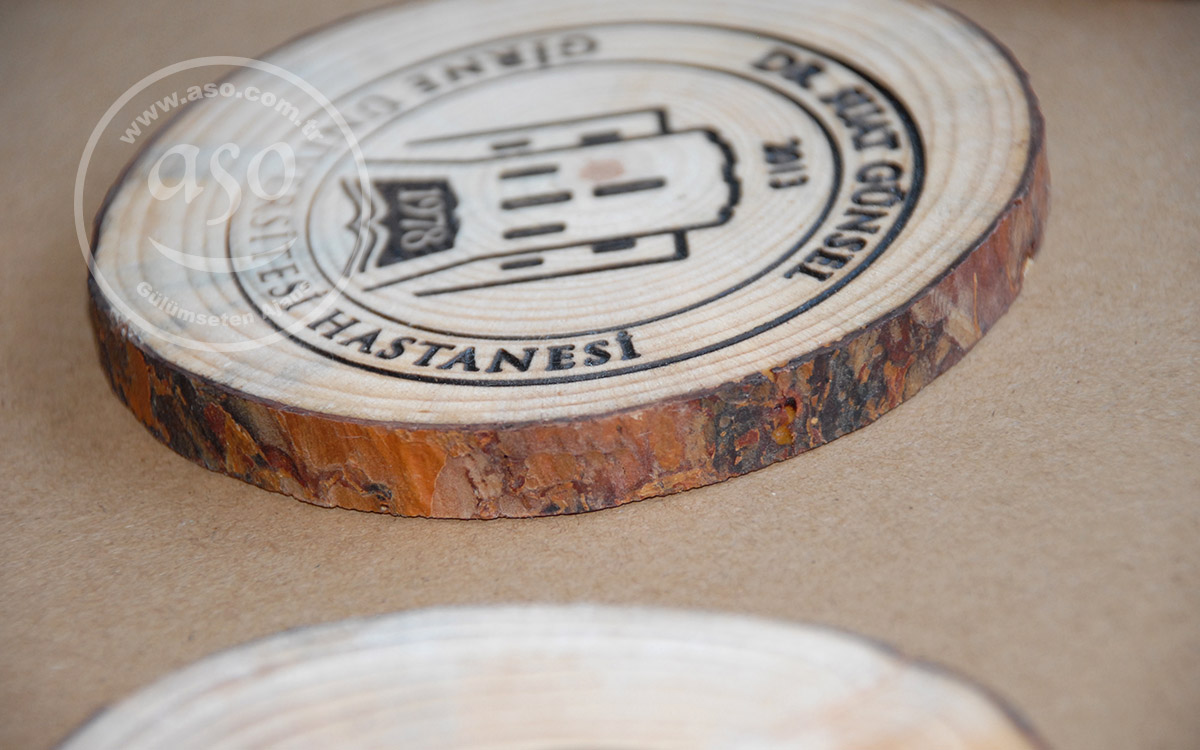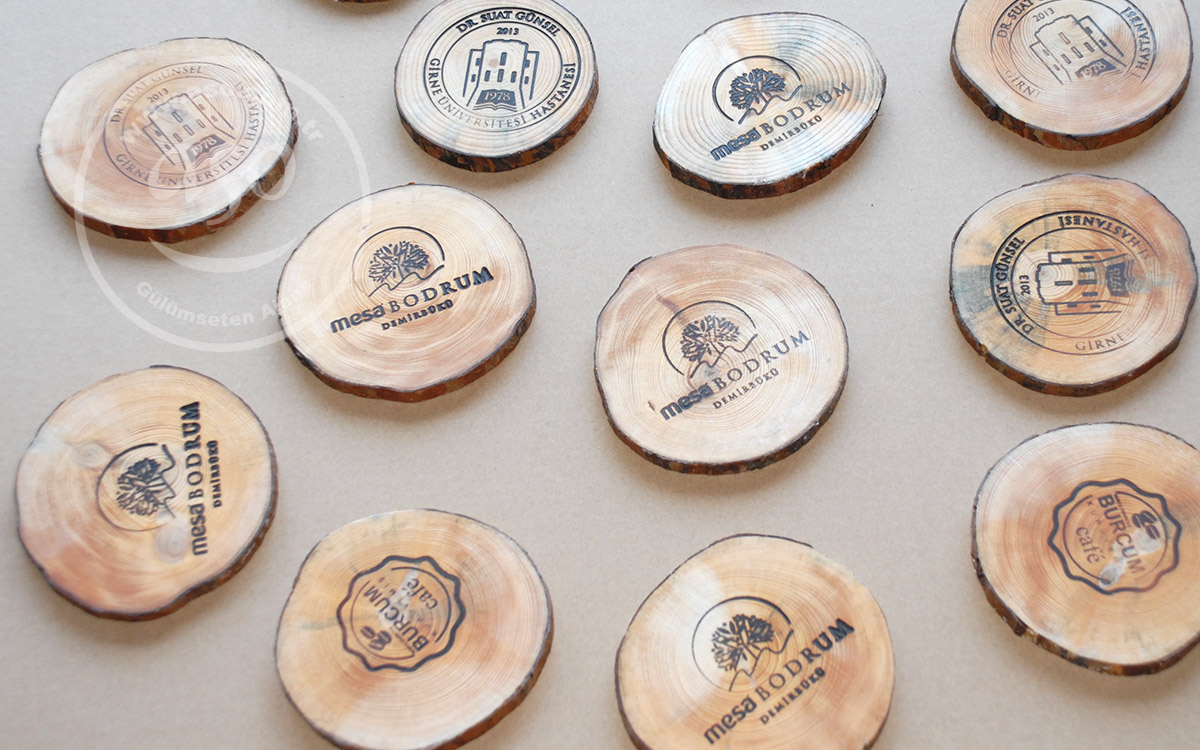 Wooden Pallet Shaped Coasters
The wooden pallet-shaped coaster is especially suitable for logistics and transportation companies. It is produced by joining wooden bars together. It is a stylish product with softened edges. The wooden pallet-shaped coaster is 8×8 cm standard size. However, production is also made in different sizes upon request.