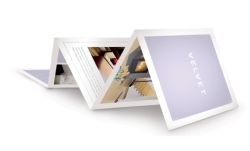 Brochures are the most familiar advertising promotion product that we encounter in every aspect of our daily lives. They appear in our homes, in the newspapers we read, on buses, in cafes. It is one of the advertising products that reaches its purpose the most. Design, paper type, print quality and most importantly graphic design are important factors for a brochure to achieve its purpose. The quality of your brochure reflects the quality of your products.
We can take your product photos for your company promotion brochure, make the best graphic design, print on different paper types from 90 grams to 350 gr paper, and give a stylish look with matte or glossy cellophane. However, we can design different and interesting types of brochures using special fancy papers and special cuts.
After the preparation of the brochure, we print it digitally and prepare the prototype, so that we can see any possible errors and correct them before going to the printing press. You will see the result before printing.
If you are working with us for the first time, you can come to my office and drink our tea and coffee and see our work. You can examine our brochures, catalogs and other promotional products in different paper types and different shapes.
We also design multi-pagecatalogs with special saddle or thread stitching and different cover features to offer more product and service content. You can review examples of our work in our references >recent projects section.

There are different types of folding in brochure design. In addition to the most commonly used sizes such as standard A4, A5, there are also different folding types such as Z type, accordion folding, inward folding. From these, we determine the most suitable page and folding shape for you and print it with a stylish design.