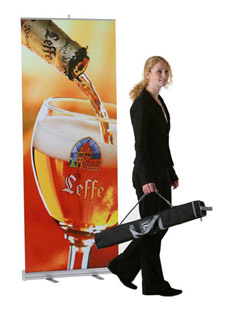 RollUp banner is the perfect product for your exhibition stand, fair, exhibition, congress and presentations. The spring-loaded aluminum mechanism wraps the image in itself. The Roll Up display stand takes less than 1 minute to open or collect.
With 1 year warranty, Rollup has a structure that you can set up and fold many times and use for many years. If you wish, you can also use it later by changing only the visual.
Roll Up's are delivered with high quality indoor printing on European vinyl tarpaulin with non-curling edges. Supplied with an edge-protected bag. Its practicality has made it a preferred product.
Total weight with bag and print is 5 kg.
Technical specifications of our Roll Up display product

High quality aluminum construction
Visual backdrop European tarpaulin with non-curling edges
It is extremely easy to install. You can pull it open at one end and then when you let go it wraps back into the mechanism
1200 dpi digital printing with indoor printing
Dimensions (Image size): 80×200 cm, 85×200 cm are the most commonly used sizes.
Bag Size: 100 x 18 x 18 cm
Total weight: 4-5 kg
Mechanism is guaranteed for 1 year.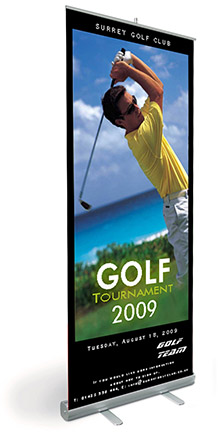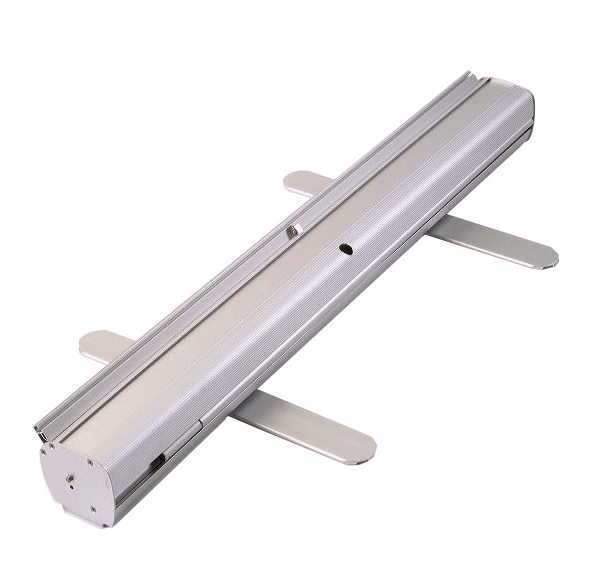 How to set up and collect rollups?
Roll Up Banner Stands, also known as roll banners and retractable banners, are an important promotional product for exhibitors who want to display their product and service visuals at an exhibition or a trade fair. They can also be used at points of sale, in stores or at your workplace to make a positive impression on customers. One way to create a positive impact on the customer is to present the rollup banner product with the right and impressive design. It is to get the design right.
We treat rollup design work as an important part of your marketing strategy. We take the same care with a newspaper advertisement, a promotional brochure or an advertisement on TV or radio. We know that it is an important way to promote your brand, product or services to your potential customer base. For this reason, we present the message you want to convey in the design effectively.
What do we pay attention to when designing a rollup?
1. Your logo should be at the top
We use the top of your stand to display your company logo and main message. It's important that your main message is at eye level, so whether it's your company slogan, an image of a product or your website, we put it where it's most likely to catch the eye of someone passing by.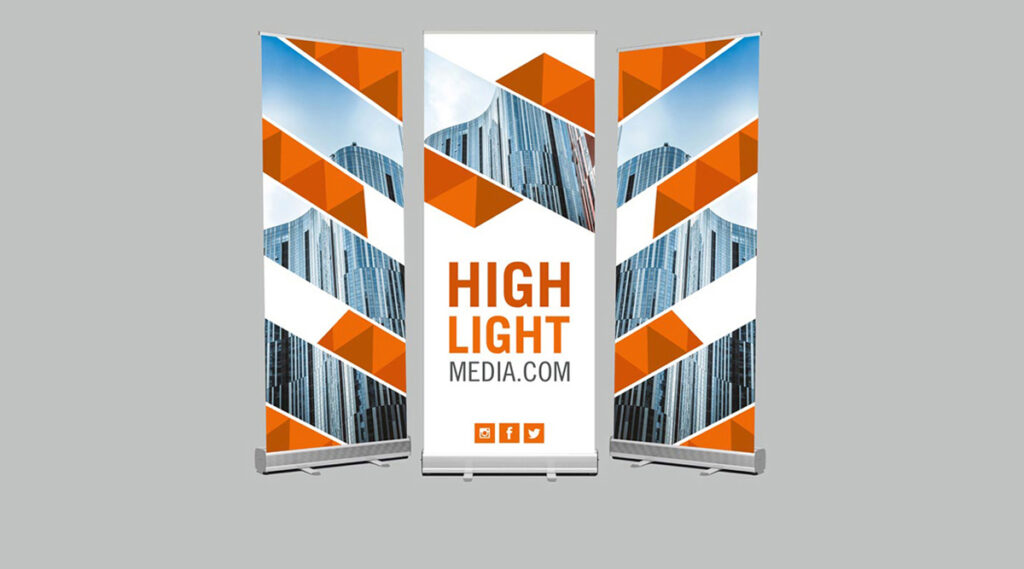 2. It is important that the text is from left to right
Consumers are used to reading from top to bottom and left to right, so we pay attention to this when filling your headline with information. It is also important to use only important information and keep the number of words to a minimum. Your brochures, flyers, other print products can always fit more information. However, rollup banner graphic design should have less and concise information.
3. Colors should be eye-catching
We give special importance to colors when designing your roll stand. Colors help you make your products stand out. However, of course we work in harmony with your existing corporate colors. We make sure that all images and text are clear and easy to read.
4. Fewer pictures and big impressive images with high quality
Any images on your roll stand must be of high quality, especially if product images are to be included. It must be at least 300 dpi resolution and saved as print-ready CMYK. An image is not taken directly from a website and is not used in the design as it will be low quality and saved as RGB. We are trying to get people's attention and attract them to your products. If you are short of images for your products and services, we use licensed photos for designs through our Shutterstock subscription.
5. Your contact information under the Roll Up banner design
One of the information we will use when designing your rollup banner poster stand is your contact information. It is especially important as your customers will contact you. Contact information will inform visitors on how best to get in touch with you in case they want to use your services or find out more about a product. We will place your website, contact number and e-mail address (or at least one of them) so that they are easy to read and find.
Roll Up Banner design basics must also be right for your product or service to stand out in the next display area. An impressive work as a design agency will make your business, your brand stand out in the exhibition area.
Rollup aluminum mechanism images, top holder and winding roll