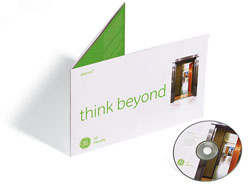 Product CDs or company promotion CDs have different advantages compared to printed promotional tools such as catalogs and brochures. You can upload a large number of photos, technical information, videos and audio narrations of your projects. You can present your presentations or folders full of information to your customers with an interactive CD.
---
Their costs are considerably lower than catalogs and brochures. Once the design is done, you only duplicate it as many times as you need and keep your CD updated by adding your new products to new versions.
We make interactive work of your company CD or product CD with a visually rich, user-friendly interface with special programs, design different types of cartons for the CD, reproduce it in the quantities you want and deliver it to you on time.
We also produce different CD and DVD envelopes. In addition to the matt or glossy laminated CD DVD envelopes shown below, we also produce kraft cardboard envelopes made from 100% waste paper.