Large and custom designed banners for your backdrop events.
Backdrops are panels that can be displayed in various areas for special events and announcements, with graphic design and digital printing, in different sizes, standing or hanging in suitable places. They are perfect for conferences, seminars, shopping malls, studios, weddings, fashion shows, backstage and other events. It makes your brand, message and slogan memorable when you display it in an impressive design customized with your logo or message. You can get a larger panel by putting more than one 2×2 meter backdrop panel side by side.
Where are backdrops used?
Digitally printed standing panels called backdrop backstage panels can be used in many different areas.
Fairs
Congresses
Shopping centers
Commercial areas
Seminars
Exhibition areas
Hotels
Entertainment venues
Photo studios
Wedding and Celebration areas
and can be used in many similar areas.
Backdrops are a good promotional product with a large visual print area. Appeals to the emotional appeal of the audience. Displayed with a good design to create a positive image. The usage area provides the desired message in the visual field with an impressive design in the most effective way. A wider panel can be obtained by using more than one backdrop of 2×2 meters. very easy to install, dismantle and transport. The total weight is between 5-6 kg. The price is also quite affordable. Once rolled up, you can safely count them until the next exhibition and use them over and over again.
Backdrop backstage panels are produced by high quality digital printing on black light-proof cast vinyl. Vinyl tarpaulin edges do not curl over time, it can be used over and over again. Digital print quality is very high and has vibrant colors. Latex inks that are odorless, safe and harmless to nature and human health are used. The paints used are UL ECOLOGO and GREENGUARD Children & Schools (SM4) certified.
Please call us for price information.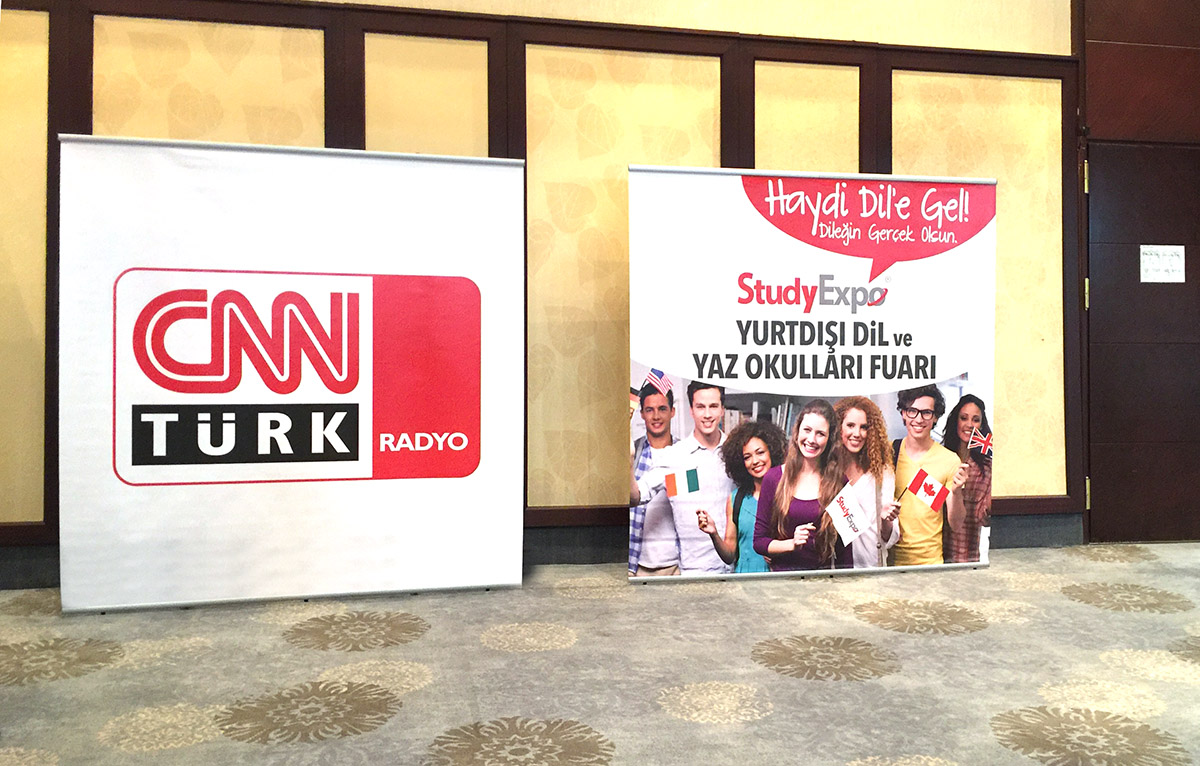 The backdrop prints used in fairs and exhibition areas are 2 meters high and 2 meters wide. Multiple backdrops can be used separately in the same area, or they can be brought side by side to give the appearance of a single design. Larger sizes are obtained. You can have your own agency design the backdrops or we can make a custom design for you. If you want to have your agency do it, images and content should be prepared in high-resolution print format. After the design is prepared, the assembly process takes 2-4 days in our printing workshop. You can also use custom photo backgrounds for company meetings and other important business conferences.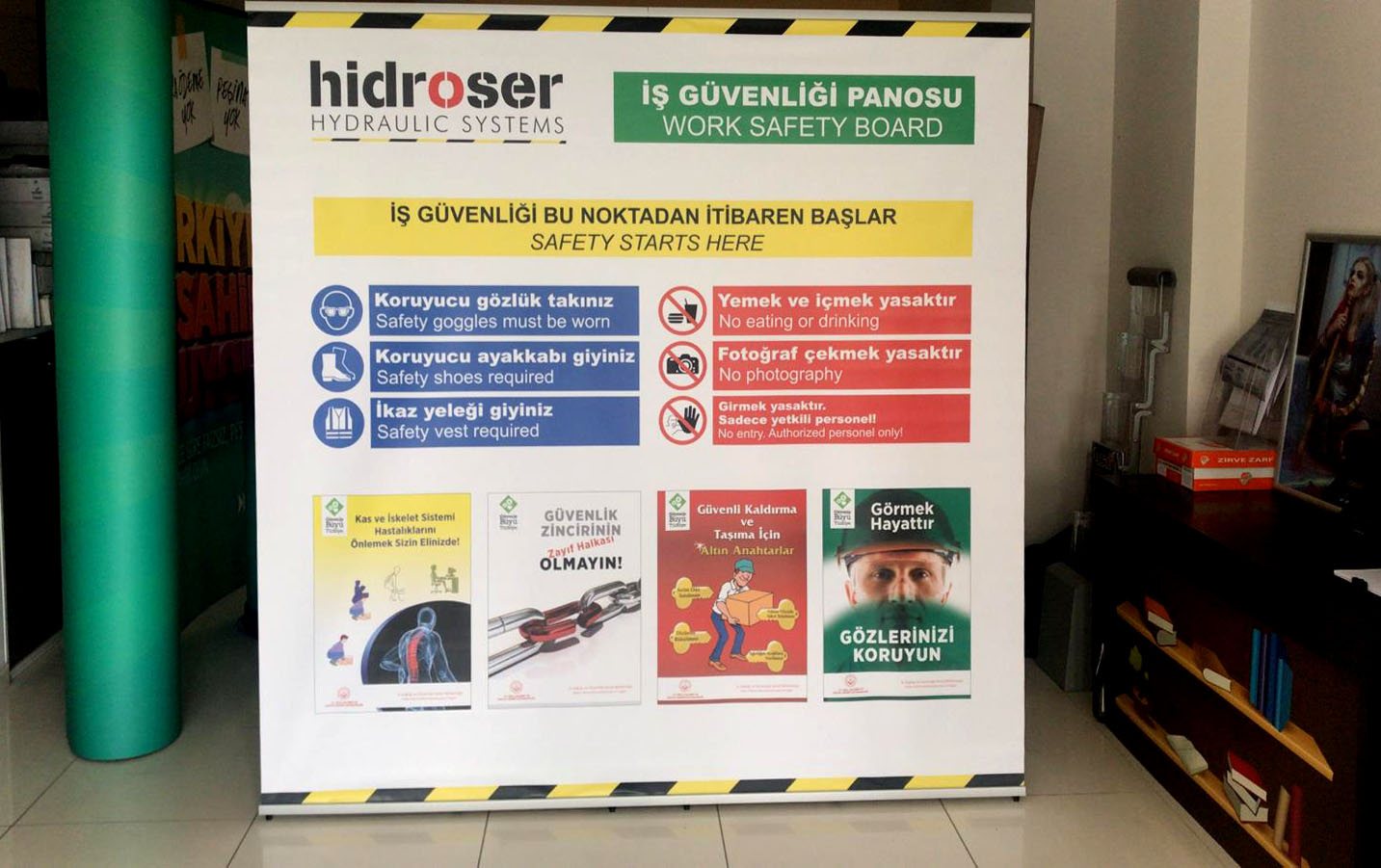 Work safety panel, backdrop banner produced for use in Hidroser factory.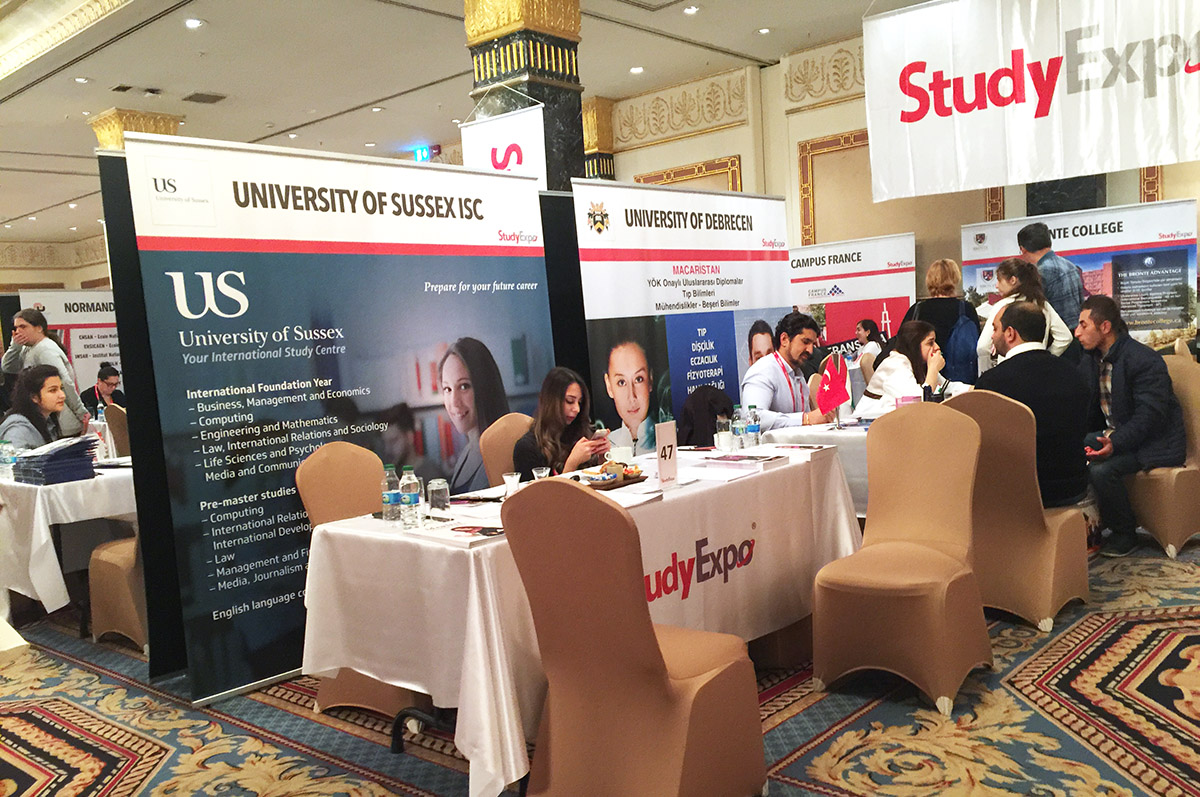 Frequently asked questions for Backdrop panel
How big a custom background do I need?
The size will vary depending on the area in which it will be displayed, the scope of your design, the message you want to convey and how many people will be standing in front of the background. From 1 meter wide, larger panels are obtained by placing 2 and more side by side. For example, if you want a backdrop with your logos in a seminar, you can adjust your panel dimensions according to the size and number of your logos. You can also maximize the larger area for a high-resolution image or as a colorful background for any purpose.
How much will I spend on a backdrop?
It will vary according to panel size. If you have us design the panel, the design fee is added to the total price. You can see the current prices here.
Can I turn a photo into a background?
Yes, we can print a picture on your background. We can put a logo on it. Since the workspace is square, the aspect ratio of your image should be appropriate. For example, a horizontal image is re-cropped to a square. Make sure your photo has a resolution of 300 dpi. Otherwise, it will appear stretched and pixelated when printed.
How to install Backdrop?
Take the accessories out of the bag and place them on the floor with your graphic. The graphic should be facing the ground. The floor must be clean.
Insert one end of the mechanism rod into the lower rod slot
Insert the other end of the rear vertical telescopic rods into the top center slot.
Position the image so that it stands
Backdrop installation video
The setup below is for a small size backdrop. backdrop installation in larger sizes is done in a similar way.