Barcode (1B) add, edit, protect tool

Today, barcodes are used for speed, accuracy and security in all areas, especially in the retail system. There are many common barcode standards in the world. However, Ean13 and partially Ean8 coding is common, especially in retail. Code128 for in-house use A,B,C standards and Codabar coding in the medical field are very common.
Barcode Label Pro Program is widespread in almost all supports and can print the coding system.
Features:
Double-click barcode properties on the design screen
you can change it. Features are divided into 4 tabs in the program.
Barcode: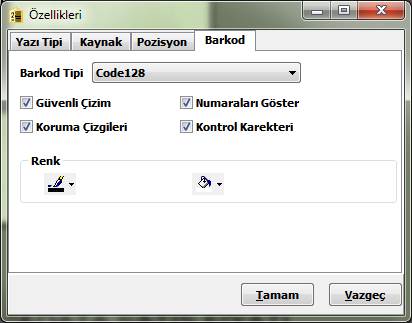 | | |
| --- | --- |
| Barcode Type | Encoding types of barcodes. |
| Safe Drawing | Barcodes are calculated and drawn according to the dpi of the printers and each At dpi the lines and the areas they cover are different. But new barcode readers can now read barcodes that fit in a full rectangle. |
| Protection Lines | Lines on the sides of barcodes. |
| Control Characters | In some barcode drawing standards, the last digit is the check digit. digit), which is automatically calculated by the program will not be calculated. |
| Show Numbers | When this option is checked, the barcode will be displayed below the lines containing it. the number drawn as a barcode appears. |
| Line Color | The color of the barcode lines. |
| Floor Color | Barcode background color. |
Yazı Tipi: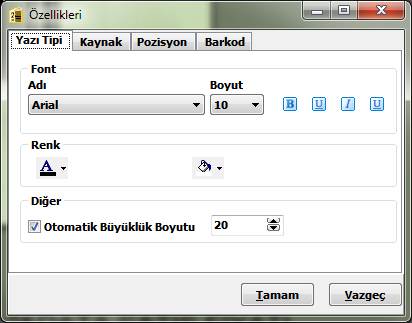 Font

Name

All fonts included in the operating system or installed later you can choose.

Size

You can adjust the font size to the desired font size.

Bold

Makes the font bold.

Underline

Makes the font underlined

Italik
(Oblique)

Makes the font oblique.

Strikethrough

Overlines the font

Color

Changes the color of the font.

Floor Color

Changes the color of the area the barcode is in.

Automatic Oversizing Size

How big the text will automatically be under the barcode.
Source:
The Resource tab is divided into three sections. These sections are
Screen

This section is for freelance writing. 1D barcode formats Turkish characters are not supported.

Database

In this section you can link fields in the database. Fields column will bring up all the fields in the database, from these fields You can select numeric, date or text fields.

Script

This section is used for special operations. Multiple data field, not collecting data fields, or not collecting the data fields in the images above like writing text before or after the data fields as seen you can make transactions.

When the formula key is pressed, the operations to be performed are displayed and will guide you.
Position:
In this tab, you can see the area of the rectangle in which the barcode is located. coordinates values such as height, width and angle you can change it.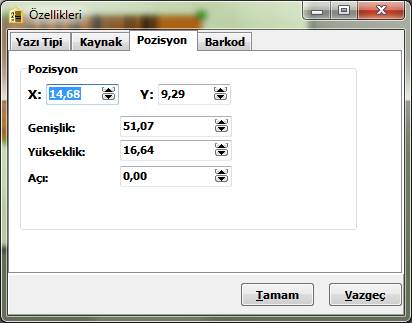 | | |
| --- | --- |
| X | The x or top left starting position of the barcode rectangle on the label. |
| Y | The y or bottom end of the barcode rectangle on the label. |
| Width | Width of the barcode area. |
| Height | Height of the barcode area. |
| Angle | Angle of the barcode area from 0…360. (Old readers 0,90,180,270,270,360 It cannot read barcodes at angles other than angles). |