Datamatrix (QR Code) Barcode Usage


Datamatrix (QR Code) Barcode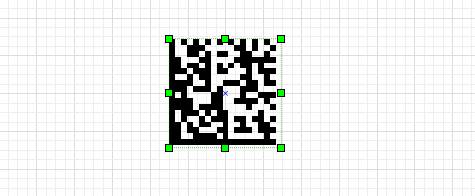 Each white cell on the datamatrix code is mathematically
as '0' and each black cell as '1' (or,
vice versa according to the situation). 2 sides of the datamatrix code out of 4 sides of the letter 'L'
consists only of black cells (finder pattern). The remaining 2 sides have a specific arrangement
Datamatrix codes consist of black and white cells (timing pattern).Datamatrix codes contain 50 characters in 2-3 mm2.
storage, and even at 20% contrast ratio (low
contrast) has the ability to be read. 300 micrometers on silicon structure
and can be written and read in sizes as small as a billboard.
They can also be printed on a size of 1 meter.
Data Matrix code size from 8×8 square
Ranges up to 144×144 frames.
Encoding up to 3,116 characters from the ASCII character set
capacity.
Datamatrix codes use the ECC200 error correction technique. ECC200, QR Code
used by Reed-Solomon error correction
technique, which allows the code to be read even if it is 30% damaged.
Datamatrix read error rate is less than 1 in 10 Million characters scanned.
Features:
Double-click barcode properties on the design screen
you can change it. Features are divided into 3 tabs in the program.
Barcode: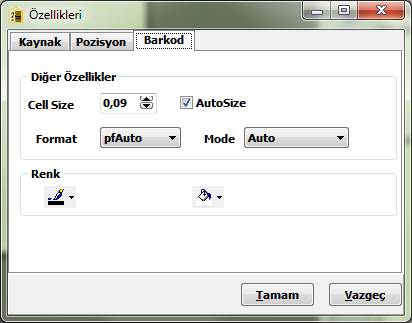 | | |
| --- | --- |
| Cell Size | The size in mm of each cell that makes up the barcode. |
| Autosize | Cell by barcode field by disabling the cell size property adjusts the size. |
| Format | Barcode cell multiplier. |
| Mode | Barcode drawing mode. |
| Color | Barcode color. |
| Floor Color | Barcode background color. |
| | |
Source:
The Resource tab is divided into three sections. These sections are
Screen

This section is for freehand writing. 1D barcode formats do not support Turkish characters.

Database

In this section you can link fields in the database. Fields column will bring up all the fields in the database, from these fields
You can select numeric, date or text fields.

Script

This section is used for special operations. Adding more than one data field, not summing data fields or before or after the data fields as seen in the pictures above you can do things like writing articles.

When the formula key is pressed, the operations to be performed are displayed and will guide you.
Position:
In this tab, you can see the area of the rectangle in which the barcode is located. coordinates values such as height, width and angle you can change it.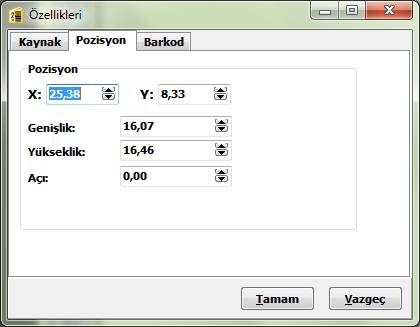 X

The x or top left starting position of the barcode rectangle on the label.

Y

The y or bottom end of the barcode rectangle on the label.

Width

Width of the barcode area.

Height

Height of the barcode area.

Angle

Angle of the barcode area between 0…360. (Old
Readers outside the angles 0,90,180,180,270,360
cannot read barcodes at angles of value).