QR Barcode (QR Code) Creation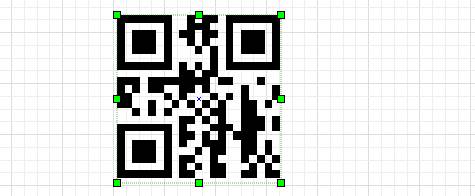 QR Code name in English Quick Response
from the initials of the words. From the cameras of mobile devices
is a special type of matrix barcode (or two-dimensional barcode) that can be scanned. 1994
It is patented to the Japanese company Denso, which developed it in
Code usually consists of black motifs on a square white background
is formed. QR Code developed for use in the automotive industry in Japan
and is widely used in South Korea. Today, digital cameras
With the impact of mobile phones, the use of QR Codes has become widespread.
The recorded image is decoded and the barcode content is sent to the user's internet address,
e-mail address, telephone number, contact details, SMS or MMS or
to geolocation information.
Data Capacityspan,
Numeric up to 7,089 characters.
Alpha numeric maximum 4,296 characters.
Up to 2,953 Bytes in binary system (8 Bit).
Up to 1,817 characters in Kanji/Kana.
Source: http://tr.wikipedia.org/wiki/QR_Code
Features:
Double-click barcode properties on the design screen
you can change it. Features are divided into 3 tabs in the program.
Barcode: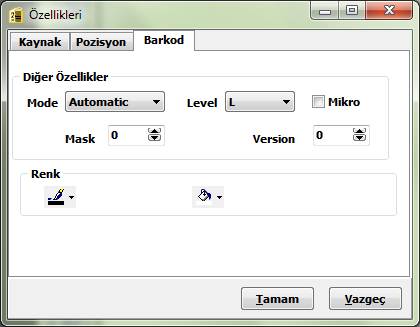 Mode

Qr Barcode modes are selected.
Automatic analyzes the entered data and encodes the data in the most appropriate format
draws the barcode.

Level

Error correction margin.

L %7

M %15

Q %25

H % 30% chance of being read in case of deterioration or tearing of labels
increases.

Micro

Micro Qr converts barcodes.

Mask

0 to 8

Version

Modules of the Qr barcode drawn between 0-40.

1 (21×21)

2 (25*25)

3 (29*29)

40 (177*177)

color

Barcode line color.

Floor Color

The background color of the barcode.
Source:
The Source tab is divided into three sections. These sections are.
Screen

This section is for freelance writing. 1D barcode
formats do not support Turkish characters.

Database

In this section you can link fields in the database. Fields
column will bring up all the fields in the database, from these fields
You can select numeric, date or text fields.

Script

This section is used for special operations. Multiple data
field, not collecting data fields, or not collecting the data fields in the images above
such as writing text before or after the data fields as seen
you can make transactions.

When the formula key is pressed, the operations to be performed are displayed and
will guide you.
Position:
In this tab, you can see the area of the rectangle in which the barcode is located.
coordinates values such as height, width and angle
you can change it.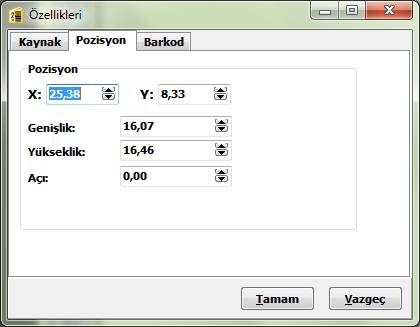 X

The x or top left starting position of the barcode rectangle on the label.

Y

The y or bottom end of the barcode rectangle on the label.

Width

Width of the barcode area.

Height

Height of the barcode area.

Angle

Angle of the barcode area from 0 to 360. (Old readers 0,90,180,270,360
It cannot read barcodes at angles other than angles).