Round Velcro Tape, Adhesive Backing
Practicality and Reliability in Connection: Round Cut Velcro Tape with Adhesive Backing
If you are looking for the ideal solution for your fastening and organizing needs, round cut hook and loop tape with adhesive backing is for you! This innovative product is designed to meet the needs of many users in different sectors. Thanks to its functional structure and strong adhesive feature, it provides a practical and reliable connection while expanding your usage area.
Round cut Velcro tape with adhesive backing comes in a variety of sizes, but generally 10, 15 and 20 mm in diameter. These sizes are ideal for adapting to different application areas. You can choose products with different diameters according to your needs.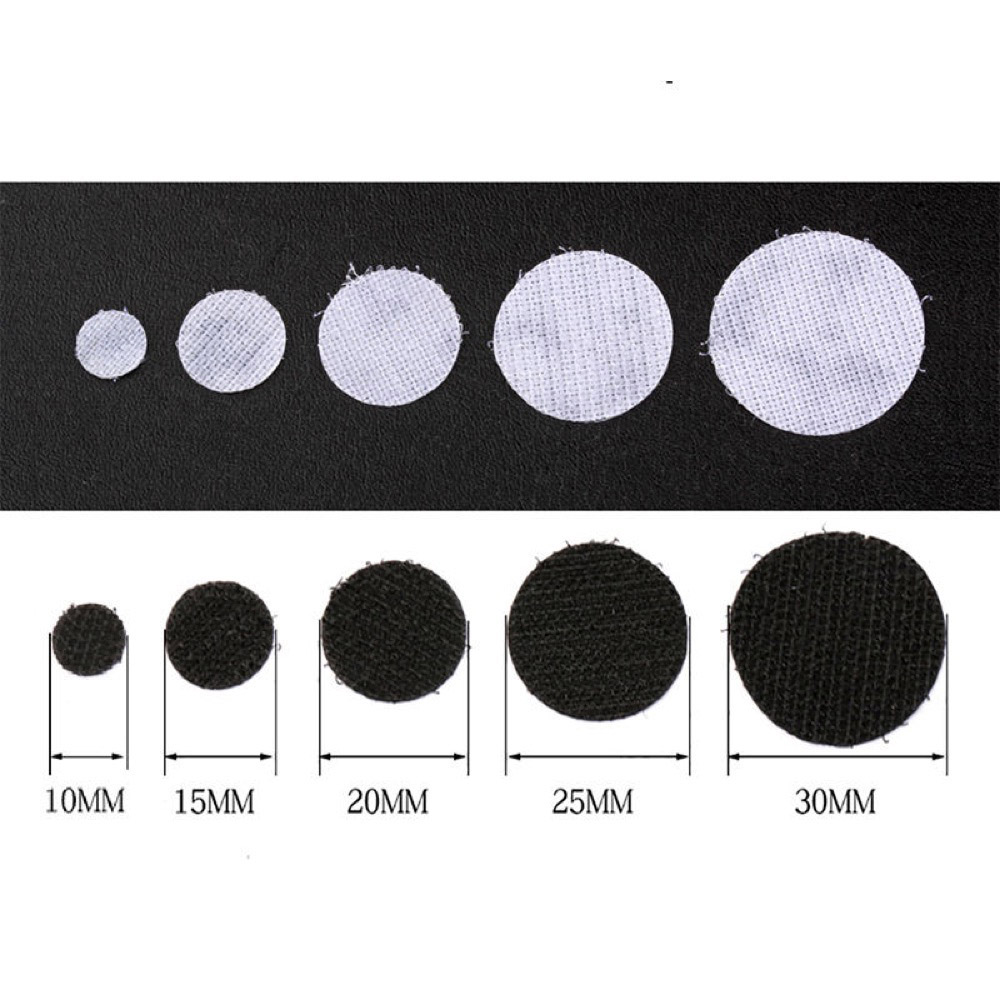 Velcro tape with adhesive backing is a round cut product that functions as a lock. The specially designed adhesive backing has been carefully selected to ensure a strong connection and long-lasting use. It can easily stick to various surfaces and maintains its strong grip for a long time.
Round cut Velcro tape with adhesive backing is preferred by users in many different sectors. Professionals in home users, offices, workshops, event organizers, advertising firms and many other sectors benefit from the advantages of this product. In particular, it has the potential to be used in various areas such as cable management, product packaging, display arrangements, textile production, exhibition stands and hobby projects.
Round cut hook and loop tape with adhesive backing is used in a variety of industries and applications. Here are some examples:
Cable Management: Velcro tape is ideal for keeping cables organized and preventing tangles. It is often used for cable organization at home, in the office or in data centers.
Product Packaging: In product packaging, Velcro is used to securely seal packages and reduce the risk of damage during transportation. It is especially preferred for sealing light and medium weight packages.
Display Arrangements: In the retail sector, Velcro tape is frequently used in product display and display arrangements. It is ideal for fixing products on shelves or stands and displaying them in an organized manner.
Textile Production: In the textile industry, Velcro is used in the design of garments and other textile products. It is especially common in temporary arrangements or accessories on clothes.
Fair Stands: For stands used at events, fairs or exhibitions, Velcro is used to hold panels together and for quick assembly/disassembly. It is preferred because it is easy to apply and leaves no traces.
Hobby Projects: Velcro can be used instead of glue or buttons for hobby projects at home or at school. Especially popular for model making, crafts and DIY projects.
Advertising: In the advertising industry, Velcro is used to hang banners or posters on walls or panels. It is preferred because it offers a quick and temporary solution.
These are just examples of some of its uses. Round cut Velcro tape with adhesive backing is a widely used product in many sectors and various projects thanks to its practicality, easy applicability and reliability.
Who invented Velcro tape?
The invention of Velcro is attributed to a Swiss engineer named George de Mestral. In 1941, during a hike in Switzerland, he noticed small bumps in his dog's fur and on his pants. He observed that these bumps were caused by plant seeds and easily adhered to the fur or fabric.
This observation inspired George de Mestral to discover the basic principle of Velcro. The projections of plant seeds had structures that resembled small rings or hooks on a surface. Working on this idea, de Mestral was able to create imitations of this structure using synthetic materials.
As a result, George de Mestral invented Velcro in 1951 and received his first patent. This product, which he originally called "Velcro", is an abbreviation of the words "velvet" and "crochet". Today, this invention, known as Velcro tape or simply "Velcro", has become a popular fastening and fastening solution used in many industries.