Barcode Label Program, which can take data from all kinds of data files and batch label all or part of this information, also supports more than 40 international barcode standards. With the Barcode Label Program, you can easily print many more labels such as parcel labels, address labels, shelf labels, price labels, measurement labels, invoice bakrodes, ID cards, etc. in series.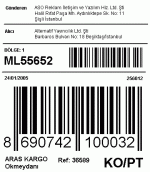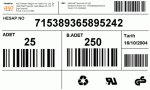 With the Barcode Label Program, you can print labels in the design you want by taking data from MS excel, Access, Word, SQL, ODBC or database sources of your accounting software.
With the program you can print barcode, automatic counter, time, isbn, issn, issn, random number on the label. The program has hundreds of similar features.
You can make the label design as you like. Once you save your design, you can print labels on all or part of the data you want at any time with that design.
You do not need a special printer for the barcode label program. You can print labels with or without barcode with any printer you use in your office.
Click here to download the label program and access detailed help videos, formulas and documents.